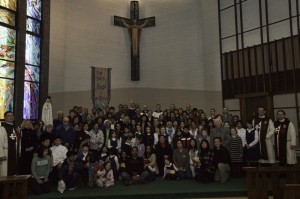 On Family Day the Heralds of the Gospel promoted a retreat for families at St. James Catholic Church in Oakville, ON.
The talks by Br. Justin Bonyun and Br. Gustavo Kralj were as follow:
– "Discernment of Spirits according to St Ignatius" (Adults)
– "Does God Love me?" (Youth)
-"Grace and Salvation" (Adults)
– "How to choose my rôle models" (Youth)
– "How to choose role models for my family" (Adult)
– "What is the purpose of life?" (Youth)
A Solemn Benediction and Mass was celebrated By Fr. Ryan Murphy, EP., missionary in Sucumbios, Ecuador.
---
Monday, February 21 · 9:30am – 4:30pm
Three separate talks for adults and children/youth.
Learn to be a more discerning Catholic, to open yourself to God, and to strengthen the basis of your faith.
Two coffee breaks and lunch will also be served. Childcare will be provided. Cost Adult $20, children $12. Tax receipt will be issued for 50% of ticket value. Funds raised will be donated to Lumen Veritatis Academy, a private not-for –profit Catholic School located in Mississauga and Thornhill.
Spend this Family Day together as a family
PARENTS GRANDPARENTS CHILDREN YOUTH
Speakers: Bro Gustavo Krajl, Bro Justin Bonyun,
HERALDS OF THE GOSPEL
Who should attend : The Whole Family
St. James Catholic Church
231, Morden Road
Oakville, On L6K 2S2
For more informations visit our Facebook page: Click here
---