Family Day Retreat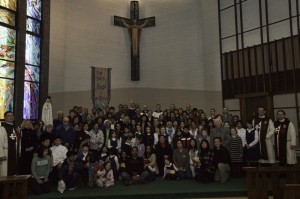 On Family Day the Heralds of the Gospel promoted a retreat for families at St. James Catholic Church in Oakville, ON.
The talks by Br. Justin Bonyun and Br. Gustavo Kralj were as follow:
– "Discernment of Spirits according to St Ignatius" (Adults)
– "Does God Love me?" (Youth)
-"Grace and Salvation" (Adults)
– "How to choose my rôle models" (Youth)
– "How to choose role models for my family" (Adult)
– "What is the purpose of life?" (Youth)
A Solemn Benediction and Mass was celebrated By Fr. Ryan Murphy, EP., missionary in Sucumbios, Ecuador.